iRobo SL C30A Leg Massager
iRobo SL C30A Leg Massager Design
The IRobo C30A leg massager uses the advanced iRest technology to offer you an outstanding 3D massage. The user can enjoy a leg, calf, foot, and knee massage, depending on the area they desire to have massaged. The IRobo C30A with heating function works at three different levels of speed, is equipped with a preset program, and allows the user to adjust the additional knee massage system, in order for the massage session to be just the way the user wants it and for the feeling of relaxation to be extreme. All these settings can be made using the incorporated remote control.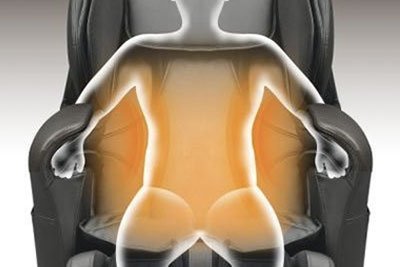 iRobo SL C30A Leg Massager Product Specifications
Specifications
Reclining/extension protection
Yes
Full back massage
Yes
Electric reclining backrest
Yes
Leg rest with massage capability
Electrically extensible
Buttock air bags
Yes. 8 air bags for the legs and buttocks.
Calf air bags
8 air bags for calves and soles.
Massage rollers
3D
Air bags
79 air bags in all.
Air pumps
1
Valves
7
Buttock massage
Yes
Relaxing massage and position
Yes
Calf massage
Yes
Reflex therapy
Yes
Sole massage
Yes
Remote Control
Yes.
Upholstery
Ecological, antibacterial leather.
Weight of chair (kg)
135 kg
Power supply
220 – 230V
Workers
It reduces the muscle pain for people who make a substantial physical effort.
Computer Users
Neck and shoulder treatment for people who spend a lot of time at the computer.
Students
Relaxation for students in times of stress tests and exams.
Dynamic People
Fatigue relief for people as are very active during the day.
Sportsmen
Muscle relaxation of the therapy for people who play sports intensively.
Elderly
Massage can be especially helpful for improving overall health as we age.
Ladies
Posture therapy for women concerned about their appearance.
Housewives
Back and hip treatment for people who stay at home.
Contact Us
Shop No 22, 1st Floor, Arya Hub Mall, Hope Farm Junction, White Field, Bangalore 560 066
I Robo Wellness Solutions © 2019 | All Rights Reserved.